Sobha Aspirational Homes Bangalore
Sobha Builders present Sobha Aspirational Homes, Balegere, Varthur, Near Whitefield

Pre- Launch BSP – Rs. 4715- (Approximate, it will be confirmed on 10th Feb, 2015 )
Owning a Sobha home is probably one of our biggest dreams and soon, this dream can turn into reality. We are inching a step closer towards fulfilling this with the newly launched 'SOBHA ASPIRATIONAL HOMES at Balagere in Bangalore.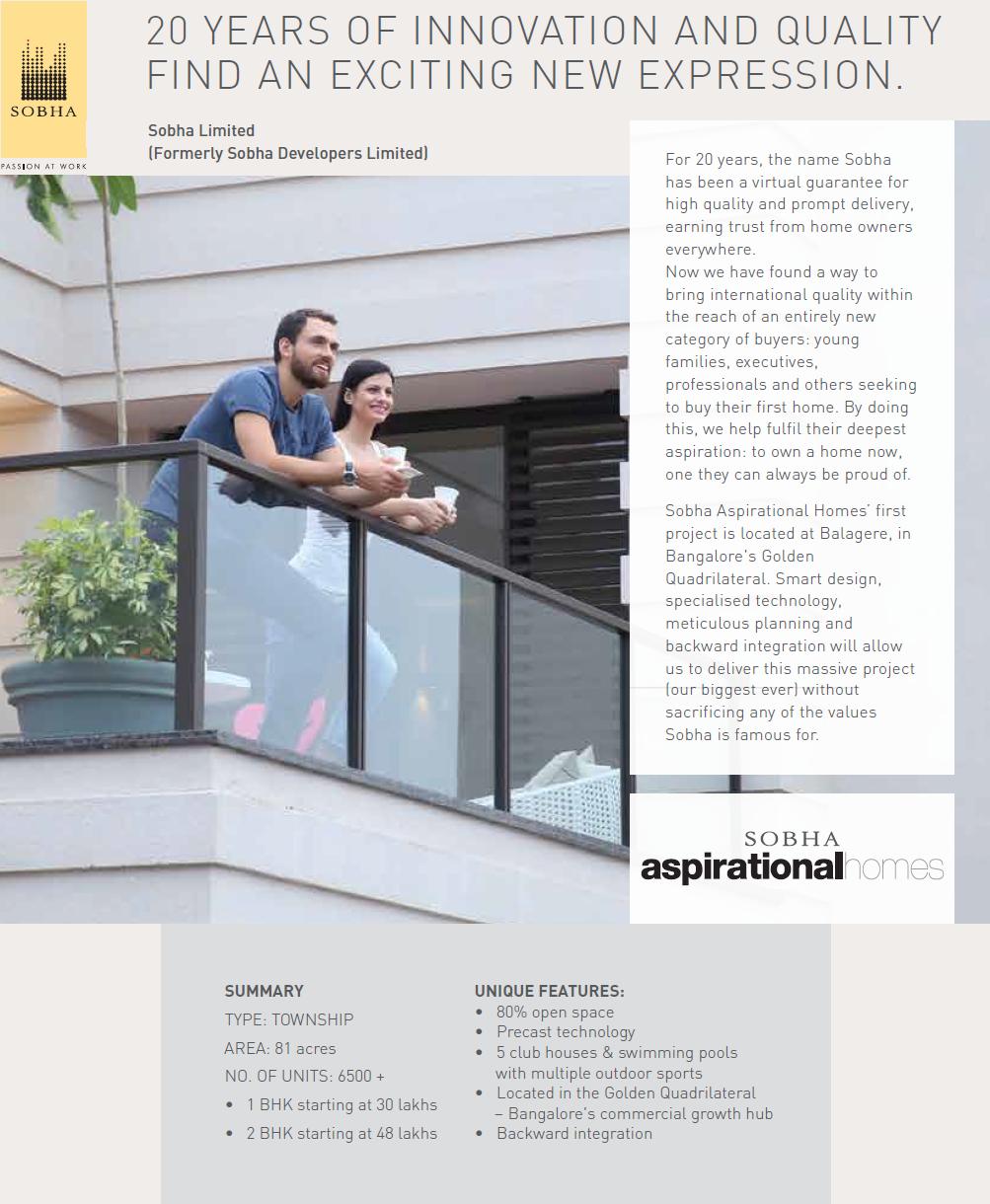 Sobha Aspirational Homes Bangalore – Project Overview
This unique self-sufficient integrated township project, located in the heart of Bangalore's Golden Quadrilateral, offers more than 6500 units comprising of 1 BHK and 2 BHK homes. The Project is located in the midst of the four major roads in the city – the Outer Ring Road (ORR), Marathahalli road, Varthur road and Sarjapur road – aptly termed the 'Golden Quadrilateral'.
It is located in the heart of the city's development and is one of the most sought after locations in the city. There are three types of apartments with 650 sq.ft., 1000 sq.ft. and 1200 sq.ft. of super built-up area. The starting price of the apartments is Rs. 32 lakhs (basic price inclusive of taxes). The township offers a lot of open green space and is the first Sobha project to be constructed using the precast technology. The project will be developed using best-in-class machinery, imported from Germany and Italy.
The project is expected to have a total develop-able area of 10.26 million square feet and total super built-up area of 7.57 million square feet, set on a total land area of 81 acres. The project not only adheres to Sobha's international quality standards but also offers abundant green space for sports and recreational facilities as also natural lighting and ventilation. Amenities range from indoor to outdoor sporting facilities, convenience stores, party halls etc.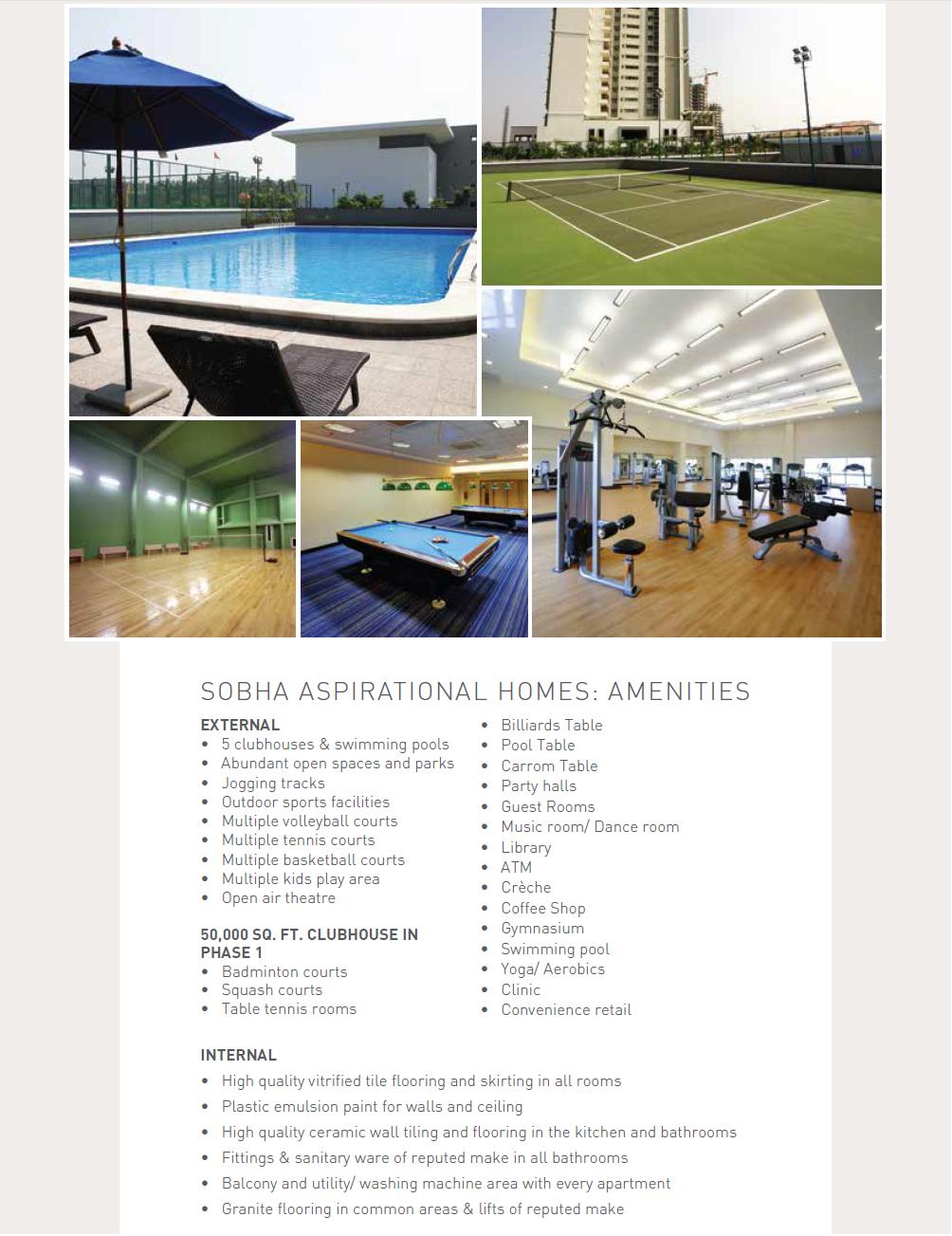 Master Plans and Floor Plans
What makes Sobha Aspirational Homes Bangalore – An Excellent Investment Opportunity?
East Bengaluru has seen a rapid increase in development from the past few years. It is turning out to be the new IT Hub of Bengaluru after Electronic city. The emergence of ITPL has further boosted the development in East Bengaluru. A lot of MNCs have targeted East Bengaluru region to setup their offices. These phenomenal developments in Bengaluru have raised the demand for flats and apartments in the city. Property Builders in the city have capitalized on this raise in demand. Sobha Developers has taken the advantage of this is  and has left no stone unturned by venturing into residential development in this East Bengaluru region of Bengaluru. The unique location, future prospects, connectivity advantage and brand value makes Sobha Inspirational Homes a smart investment opportunity. Act now to avail Pre Launch BSP – Rs. 4715- (App, it will be confirmed on 10th Feb, 2015 )
Contact us for Exclusive Pre Launch Offers and Confirmed Bookings.