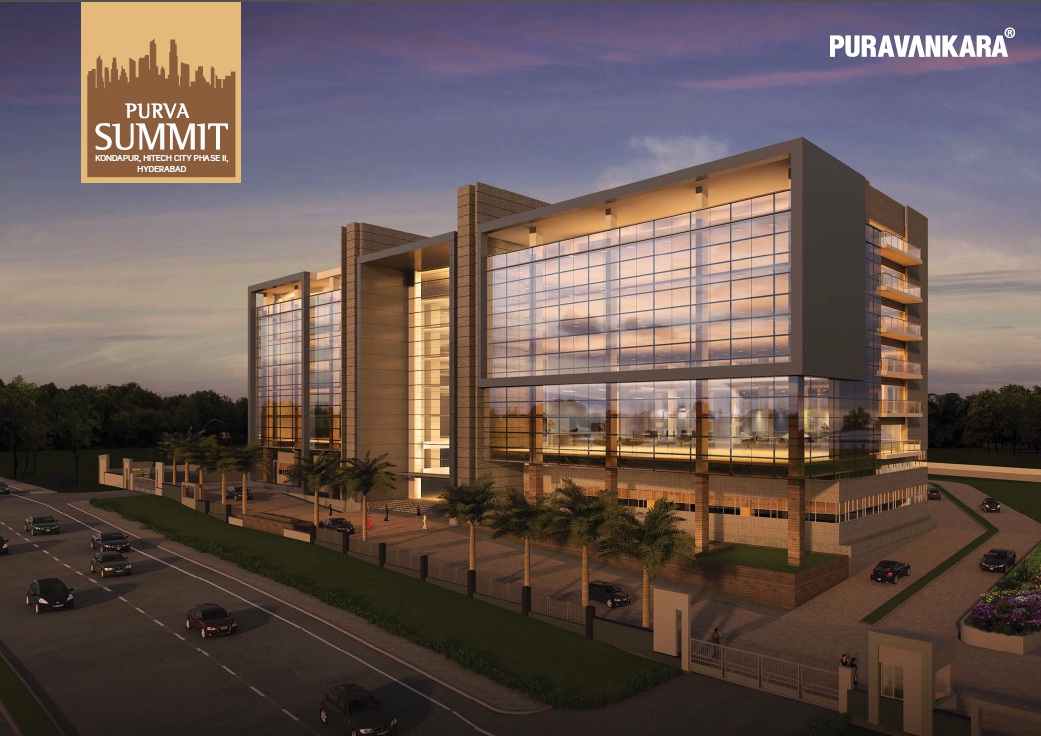 Puravankara Summit Kondapur – A commercial development by Puravankara at Kondapur, HiTech City Phase II.
Purva Summit is a Grade-A Commercial Office Space development under-construction on Whitefield-Kondapur, Hitech City Phase II. The iconic location of the property combined with the flexibility of leasing it to both IT & ITES tenants makes this a wise investment proposition for those who are looking at building a long term rental income for themselves.
The area is a major IT hub of Hyderabad comprising of L&T Infocity, HiTech CityII SEZ, Vanenburg IT Park.
It is a preferred Location of the IT Industry for both small & medium enterprises.
Only a 20 minutes drive from the city and is well connected to the rest of the country by rail, road and air.
TCS, Infosys, Wipro and Tech Mahindra are some of the major IT/ITES organizations in the vicinity.
Overview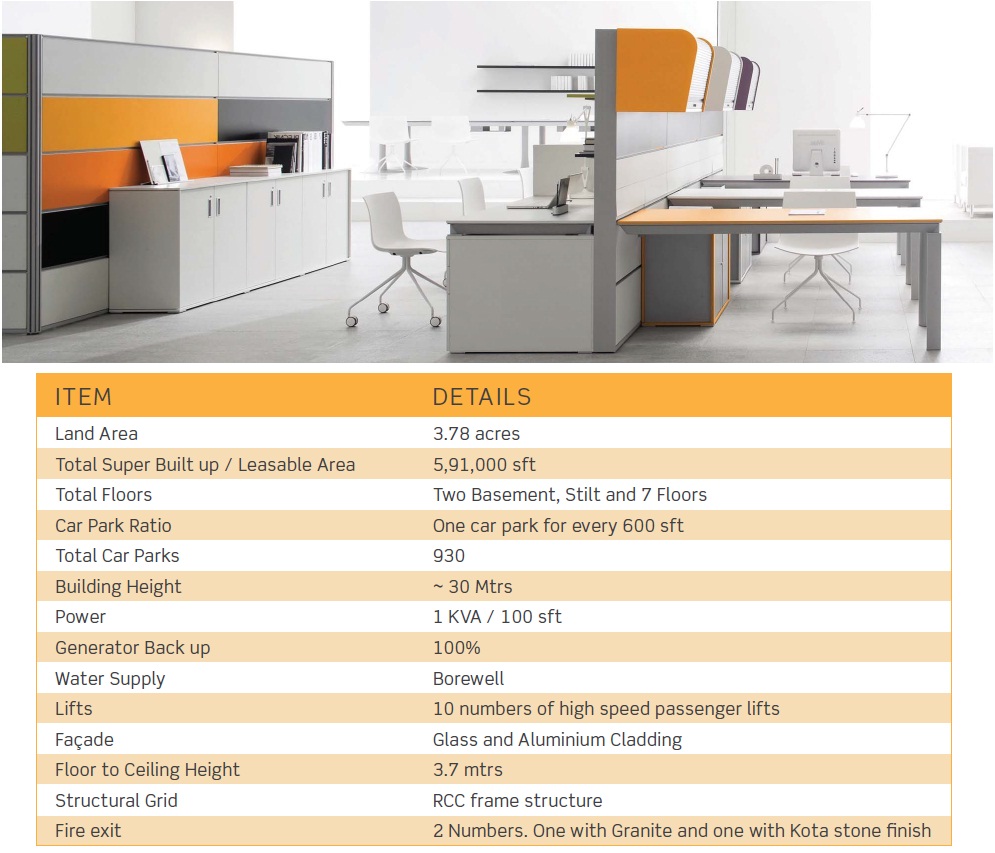 Location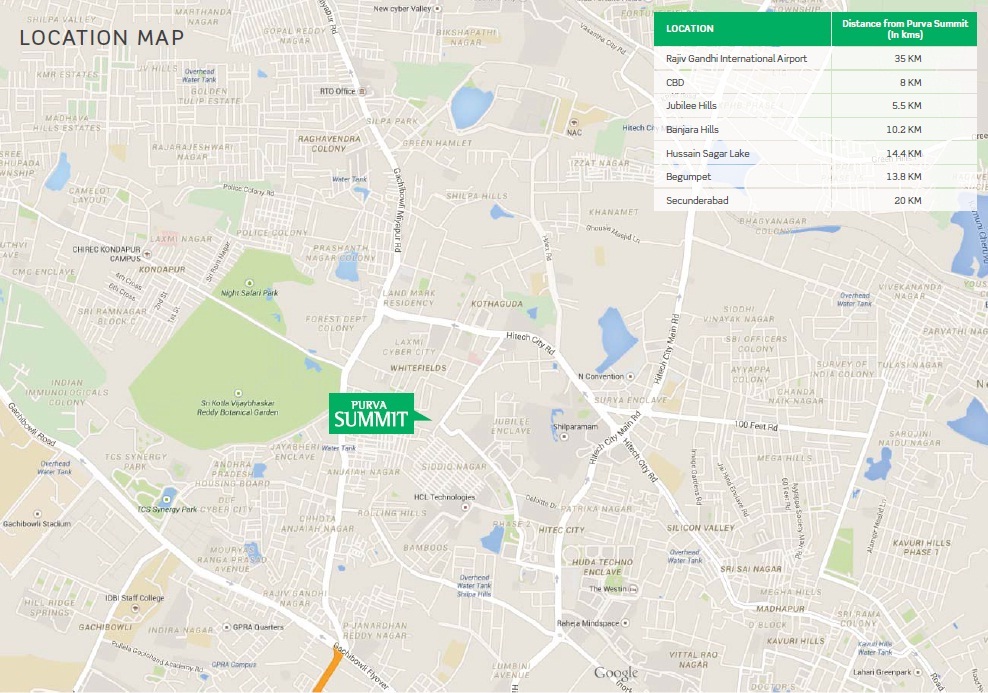 The office market in Hyderabad is dominated by the IT/ITeS sector which occupies 78% of the total Office space. The manufacturing and BFSI sector occupies 6% and 4% respectively. Other service sector companies like consulting and media, constitutes almost 15% of the office market.
The IT/ITES sector accounts for approximately 2.84 million square feet of absorption in 2013. IT/ITES Sector companies such as Cognizant, Google and Amazon were among the companies that took up large format office spaces during this year. The reasonable rental values and better  infrastructure are the prime factors working in favor of the Hyderabad office market as compared to other IT/ITeS dominated cities.
The whole of office space of Hyderabad is divided into different business districts: The CBD & Off-CBD, The SBD, The PBD West & The PBD East. The SBD ( Sub-urban Business District – SBD ) accounts for over 60 % of the office stock in Hyderabad and is the most dominant part of its absorption pie. Its market share has stayed practically the same year on year as approximately 64% of the transactions during 2013 took place in the SBD market. The HI-TEC City and Kondapur together accounted for a massive 91% of the total space transacted.
THE GROWTH
Hyderabad recorded a net absorption of 2.3 msf, outperforming Mumbai, the commercial hub of the country, with an absorption of 1.9 msf. The top three performing cities in Office space absorption during the first six months of 2014 were Bangalore, Delhi-NCR and Hyderabad. Together they  contributed 7.7 million square feet, which is 57% of the total net absorption of 13.4 million square feet (msf).
Specifications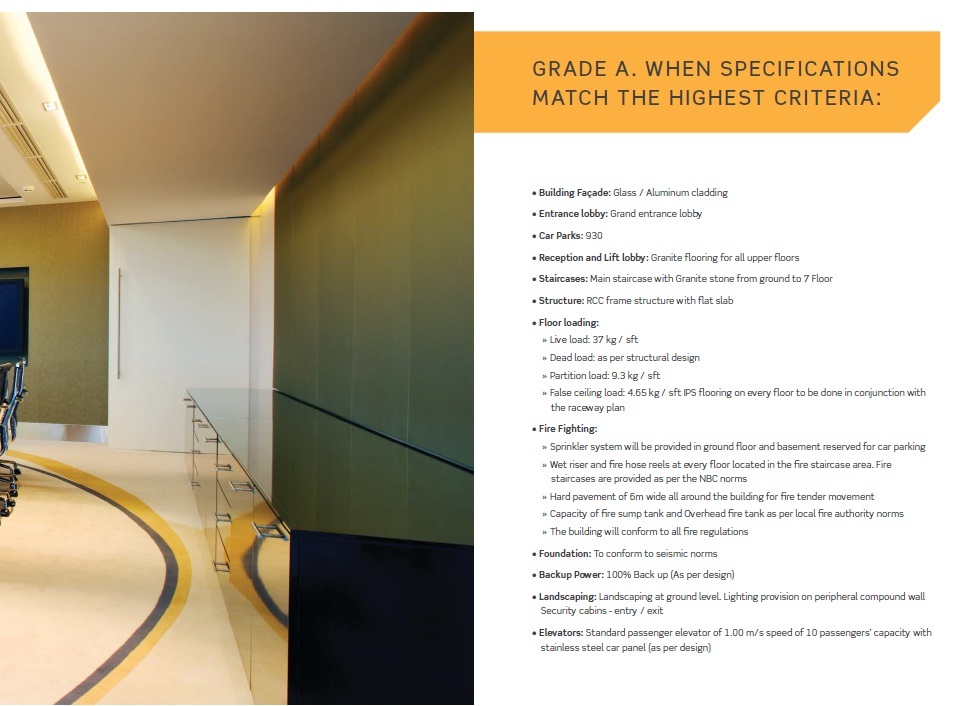 Contact us for Exclusive Offers and Confirmed Bookings