Prestige High Fields Hyderabad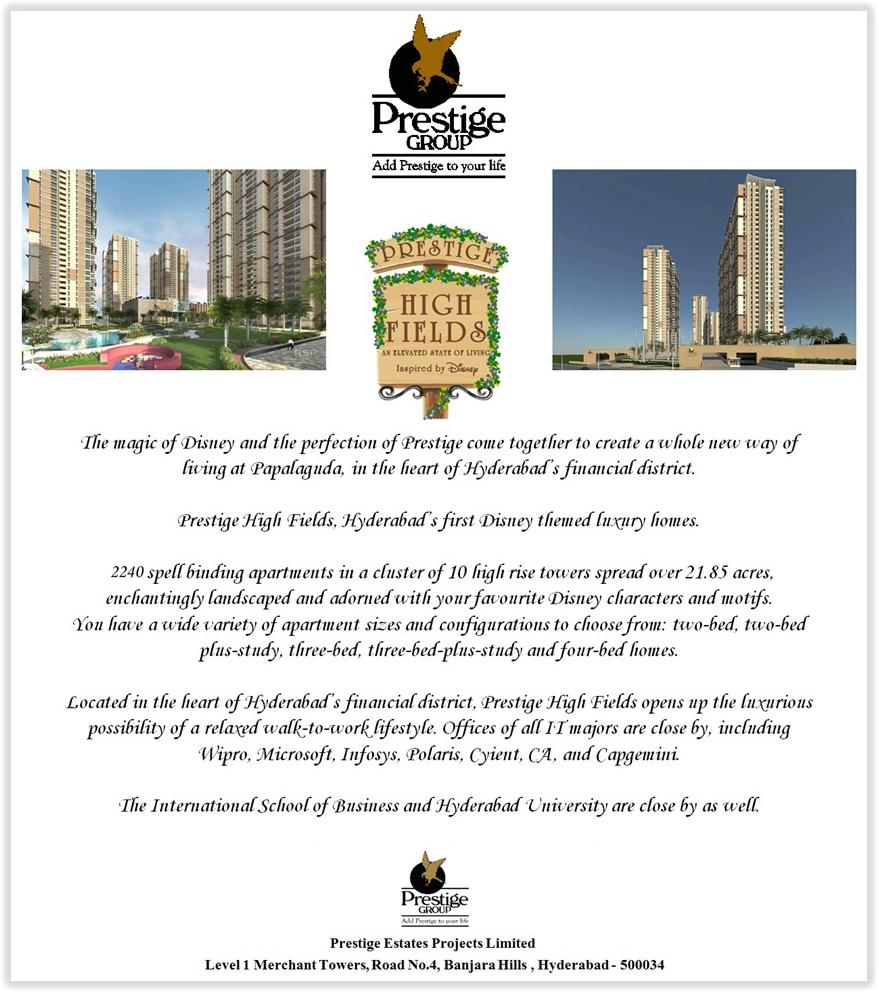 WHERE AND WHAT IS PRESTIGE HIGH FIELDS?
Prestige High Fields is located in the Financial District in Gachibowli, Hyderabad. This is a residential development set in 21.85 acres of land. The project consists of 2240 apartments spread across seven towers having 33 levels. One tower having 32 levels, one tower having 34 levels and another tower having 28 levels. It is located in the vicinity of prominent businesses such as ICICI, Microsoft, Infosys, Wipro, CA, Polaris, Cap Gemini, Waverock, Infotech etc.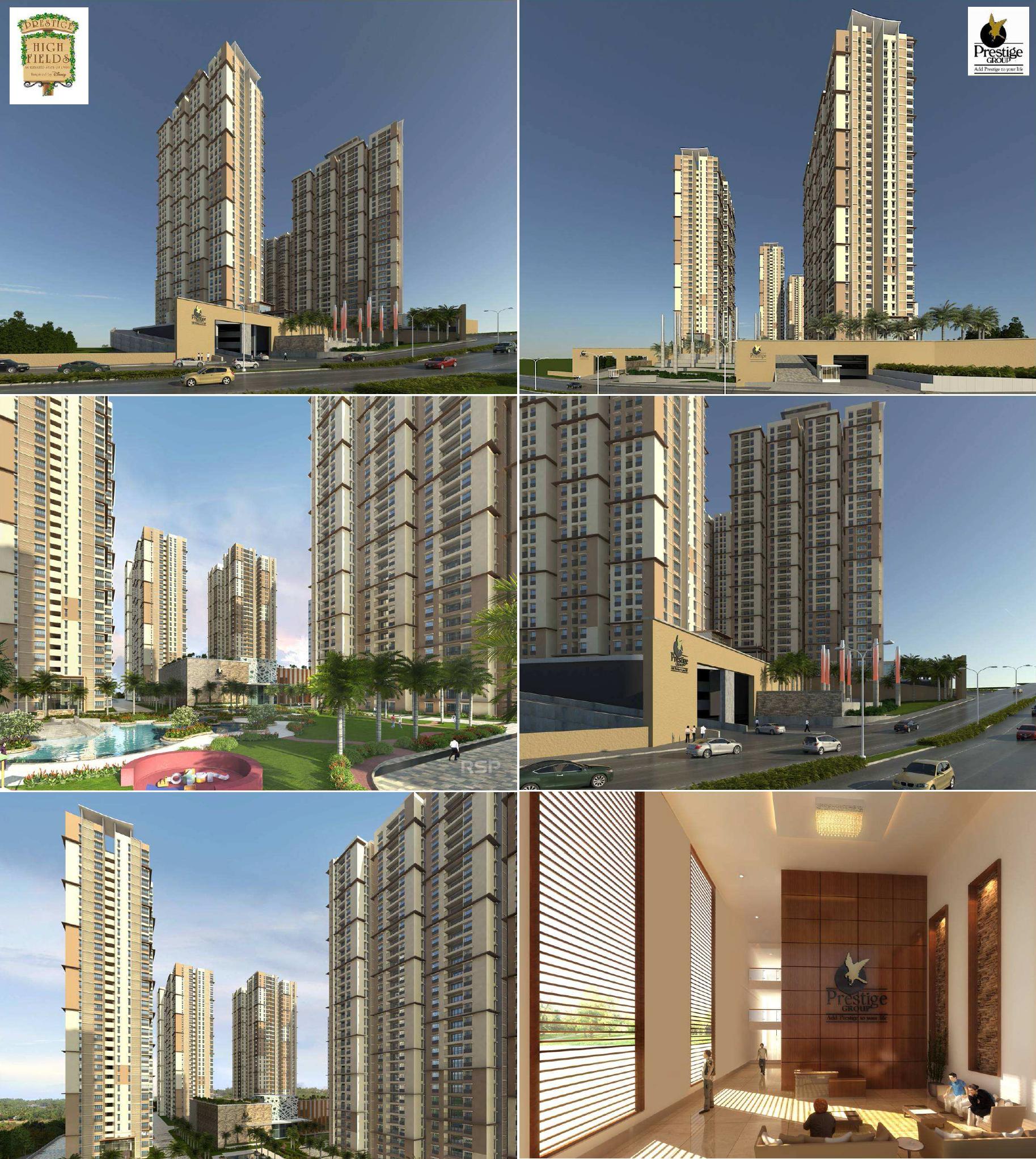 WHO IS THE ARCHITECT?
RSP, Bangalore is the architect.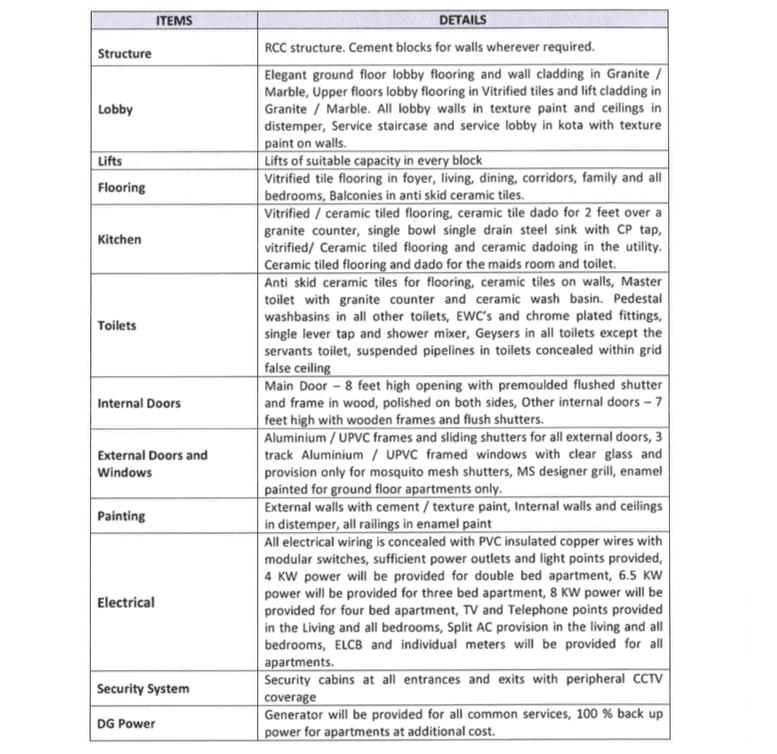 WHAT IS ITS DISTANCE FROM FINANCIAL DISTRICT?
The distance to Prestige High Fields from the ICICI Building is 1.3 km and is 1 km from the Outer Ring Road.
WHAT ARE THE DIFFERENT TYPES OF APARTMENTS AND WHAT ARE THEIR SIZES?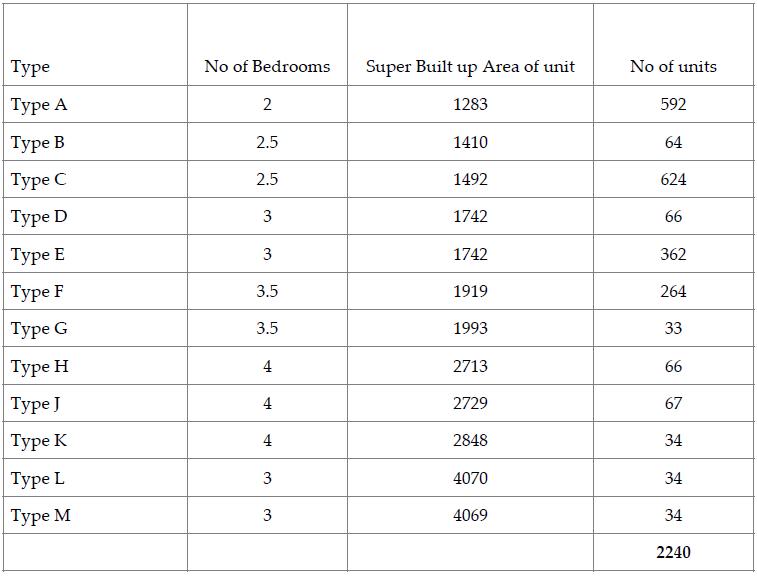 IS THERE ANY DIFFERENTIAL PRICING BASED ON THE FLOORS OR ORIENTATION OF APARTMENTS?
Yes, there is a differential pricing for apartments. For every level/floor there is a floor rise charges of Rs 20/sft. is applicable. Please note the base price has been fixed tower wise. East facing units attract a premium of Rs 100/sft.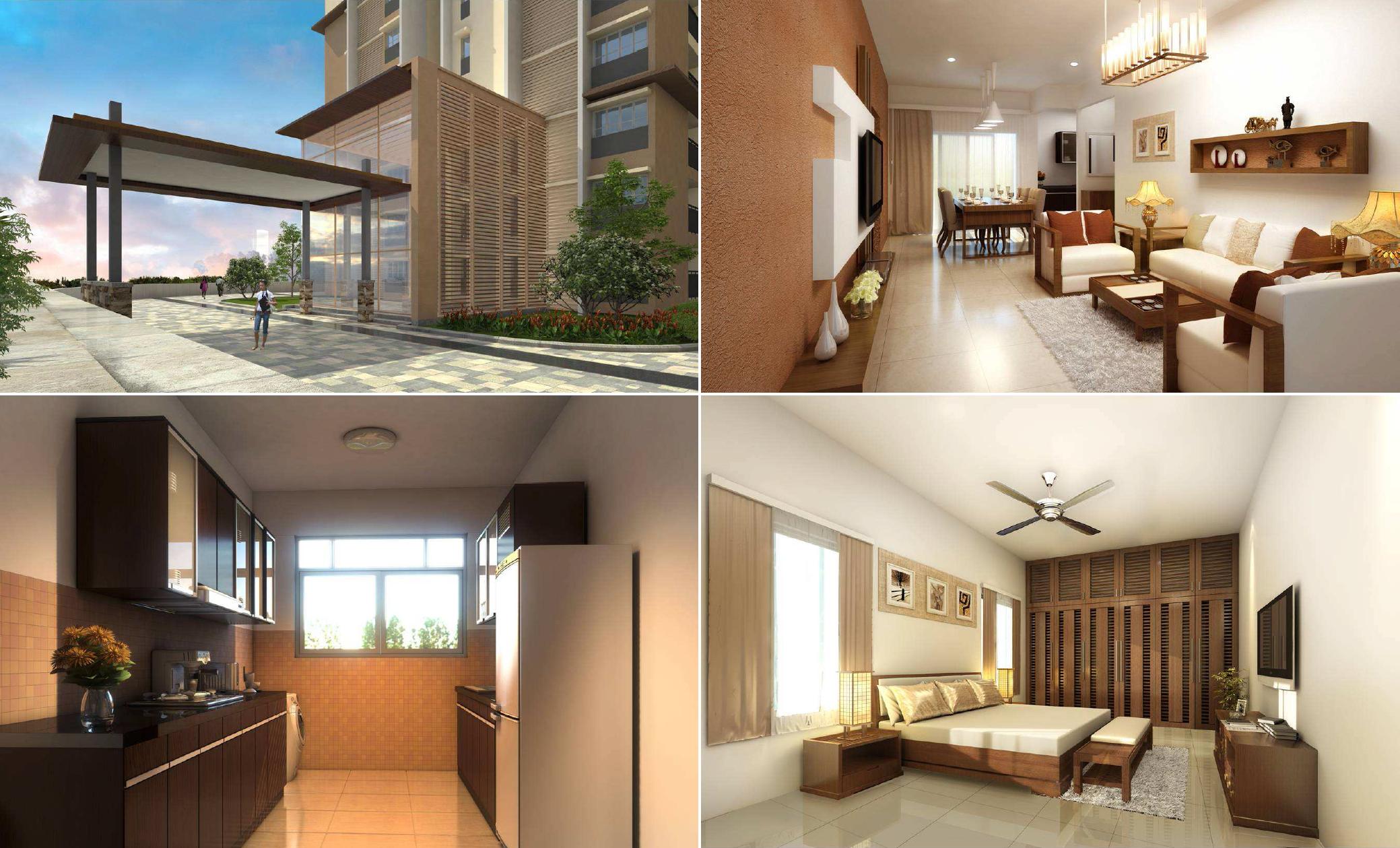 IS THERE A CLUBHOUSE, IF YES, WHAT ARE THE FACILITIES?
There is a sprawling 1,19,000 sft Club house that is replete with Swimming Pool,Gymnasium, Yoga & Aerobics Hall, Health Club, Guest Rooms, Mini Theatre,Squash Court, Badminton Court, Indoor Board games, Table Tennis, Basket Ball Court. Space provisioned for ATM, Pharmacy, Restaurant, Crèche, Boutique, Library, Salon, Super market and Party Hall.
WHEN DOES THE DEVELOPMENT START AND WHEN CAN I EXPECT TO MOVE INTO MY NEW HOME?
Excavation has already begun and the first pour of concrete will commence by August 2015. Your new home will welcome you by July 2019.
WHAT ABOUT CAR PARKING SPACE?
We shall provide one car parking space for 2 BR and 3 BR (upto 1742 sft) and two car parking spaces for 3.5 BR and 4 BR apartments. Additional car parking requests will be taken up towards project completion.
IS THE TITLE OF THE PROPERTY CLEAR?
Of course! You are dealing with Prestige. The land is freehold, marketable and free from all encumbrances.
WHO ARE THE LEGAL ADVISORS?
Tatva Legal, Hyderabad
HAS THE HMDA SANCTIONED THE PLANS?
Yes, the development plan has been sanctioned by the HMDA.
HOW DO I BOOK MY HOME AT PRESTIGE HIGH FIELDS?
Fill the Booking Application Form and Pay the initial booking amount by a cheque/DD favouring "ʺPRESTIGE ESTATES PROJECTS LIMITED"ʺ together with required supporting documents.  The booking Amount is 20% of the sale value, with the current dated cheque of below amounts and second cheque for balance 20% dated 30 days from booking.
2 BR Rs. 3,00,000/-­
2.5 BR Rs. 4,00,000/-­
3 BR Rs. 5,00,000/-­
3.5 BR Rs. 6,00,000/-­
4 BR Rs. 7,00,000/-­
WHAT HAPPENS THERE AFTER?
On realization of the balance 20% PDC (Dated 30 days from booking) a formal leaser of allotment will be issued. Agreements will follow after completion of allotment process.
WHEN DO I GET A CONFIRMED ALLOTMENT?
On payment of 20% of the sale value and submission of post-­‐‑dated cheques for the remaining amount, the allotment will be confirmed.
CAN I MAKE A 100% DOWN PAYMENT?
Yes. This offer is applicable for a limited period only. Please check with the sales team for more details.
HOW ARE INSTALLMENTS TO BE PAID AND IS IT TIME BOUND?
Installments are to be paid by way of post-­‐‑dated cheques which is a pre-­‐‑condition of the allotment. This schedule of payment is not linked to the progress of the construction but on a time bound basis as mentioned in the payment schedule.
WHAT ARE THE OTHER ADDITIONAL AMOUNTS TO BE PAID?
Electricity/ Water (HMWSSB) Charges, Contribution to the Sinking Fund, Advance Maintenance Charges, Generator Charges, Mutation & Assessment Charges, Registration Charges, VAT, Service Tax and any other taxes will be required to be paid as per the prevailing guidelines at the time of possession.
WHAT HAPPENS IF I CANCEL MY BOOKING?
If you do wish to cancel after booking, 1% of the sale value will be forfeited before agreements and 15% of the sale value will be forfeited after agreements as cancellation fee and the balance will be returned (subject to statutory deductions if any) without interest.
WHAT ARE THE AGREEMENTS THAT NEED TO BE SIGNED?
The agreements that need to be signed are Agreement to Sell and Agreement to Construct, followed by a Sale Deed, at the time of possession.
WHEN WILL REGISTRATION TAKE PLACE/WHAT IS THE PROCESS OF REGISTRATION AND WHEN DOES REGISTRATION TAKE PLACE?
Registration will be done only on completion of the development and on payment of the entire sale consideration including the additional charges. Registration will be facilitated by us through an advocate appointed by Prestige.
WHAT IS THE PROCESS OF ASSIGNMENT?
Assignment can be done only after the Agreements have been signed, PDCs given and the new party agrees to comply with the terms and conditions of the principal agreement. Transfer Fees of Rs. 125/sft will be payable to The Prestige Group. If you have availed of a loan, you have to also retrieve and hand over to Prestige all leaers and documents issued by Prestige to the Bank/Housing Finance Institution. Requests for assignments will be accepted only after 20% of the Sale Value and 3 Instalment payments are realised as per the payment schedule.
HAS PRESTIGE HIGH FIELDS BEEN APPROVED BY BANKS/HOUSING FINANCE INSTITUTIONS (HFIS) FOR LOANS?
Yes, leading HFI approvals are in process and we shall inform you in due course.
WHAT IS MY RESPONSIBILITY FOR DISBURSEMENT OF INSTALLMENTS THROUGH HFIS?
It is your responsibility to ensure timely disbursement of installments from HFIs. To facilitate smooth payments, customers are required to issue a consent leaer. Post Dated Cheques handed over for the installments will be returned on receipt of the payment from the HFI.
WHO WILL TAKE CARE OF THE MAINTENANCE OF THE PROPERTY?
The maintenance will be taken care of by Prestige Property Management & Services. You can now be rest assured that Prestige High Fields will be cared for by professionals.
WHAT IS THE SCHEME FOR MAINTENANCE?
The scheme for maintenance is as under:
A sum of Rs. 48/-­‐‑ per sft. will be charged as the advance maintenance fee for the first year and will be collected at the time of closing of your account. From the second year onwards, maintenance charges will be levied on a quarterly basis payable in advance. All future payments are to be made favoring the Property. An additional sum of Rs. 48/-­‐‑ per sft. corresponding to the super built-­‐‑up area will be collected as Sinking Fund. This amount will be deposited in an Escrow Account and the accruals will be used for major expenditure.
WILL THERE BE A VALIDITY TO THE PRICE LIST?
The prices are subject to change from time to time, subject to the discretion of the Management.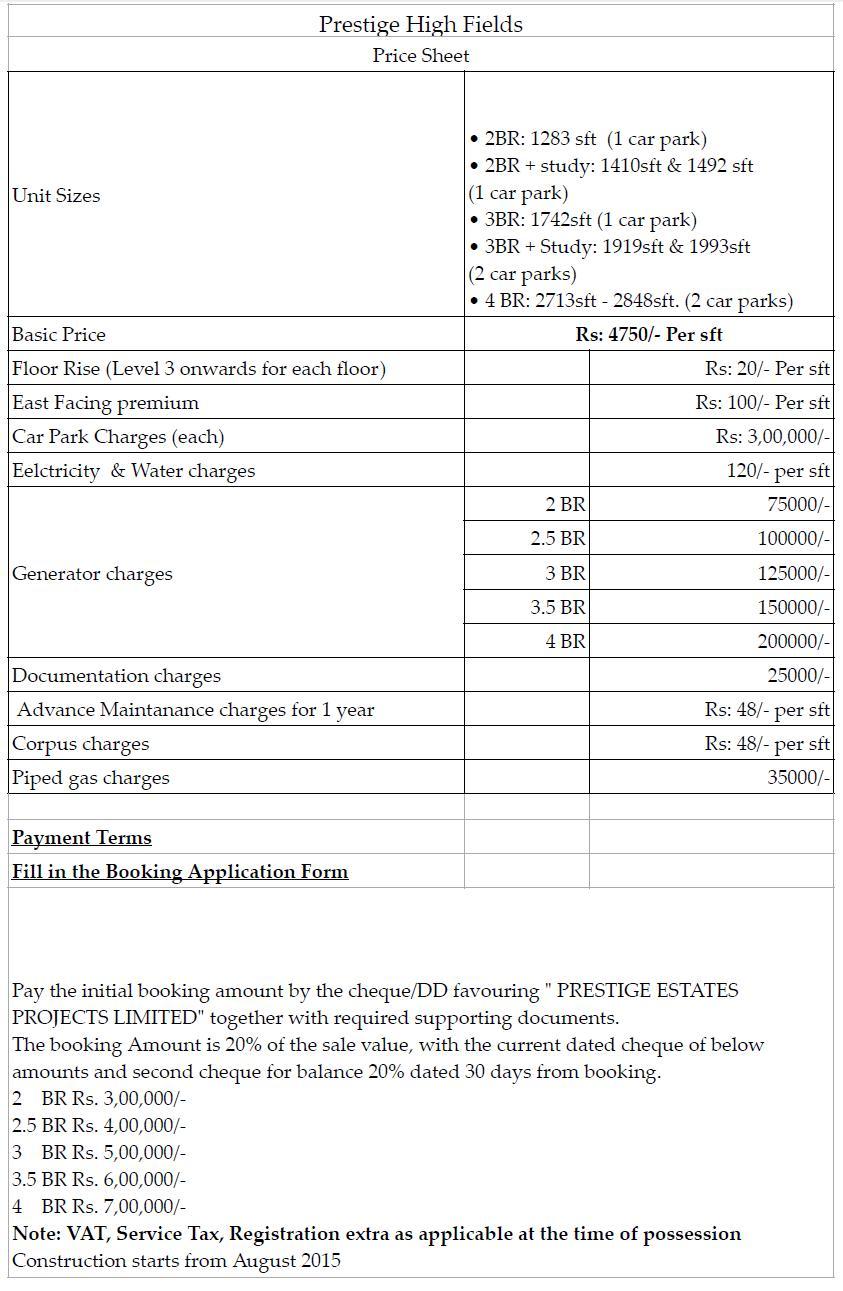 AM I PERMITTED TO SHIFT MY BOOKING?
No, you are not permiaed to shift your booking either to a different block or to a different project.
WHAT IS THE MAIN SOURCE OF WATER?
Water will be obtained through the available ground water & HMWSSB supply. Water Recycling Plants, Rain Water Harvesting and other methods for optimum use of water resources are planned.
 Please contact us for Exclusive Pre Launch Offers and Confirmed Bookings.