Invest Smart with Mahindra World City at Chennai. Prices starting at just Rs.18.1 Lakhs

At Mahindra World City, each day is blissful. There is more to life than just work. With excellent living spaces, amidst clean, green, natural environs, Mahindra World City has been built and designed with one simple aim – to make life better for its residents. Spread across 285 acres, the zone has been well planned to provide living spaces supported by modern social infrastructure to over 6000 families across diverse segments.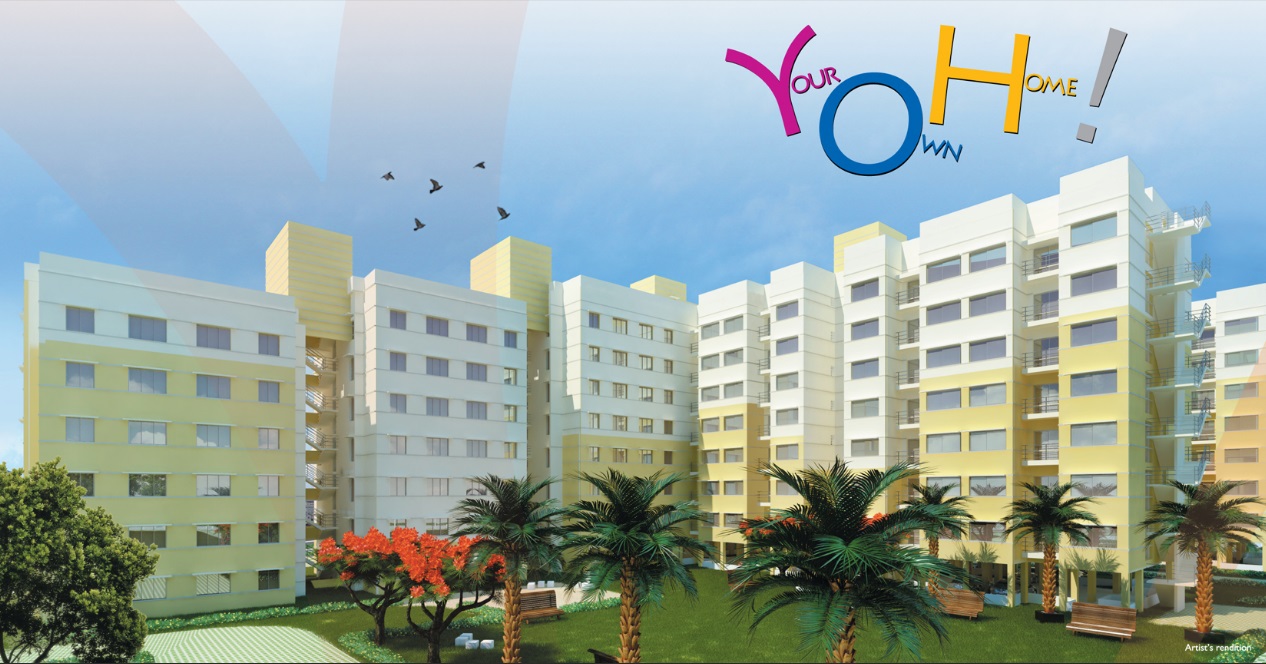 The ethos of Mahindra World City has been creation of a holistic ecosystem which not only nourishes business but also makes quality living inside the city a reality. The master plan envisages development of Social and Commercial Infrastructure to integrate work and living. The current developments at Mahindra World City, Chennai include multi format housing, railway station, school, hospital, hotel, commercial centre, club amongst others.

Mahindra World City, Chennai is India's first integrated City and Corporate India's first operational SEZ. Etching its name on India's business map, Mahindra World City Chennai, has attracted corporate giants such as BMW, B.Braun, Capgemini, Holiday Inn Express, Infosys, Ingersoll Rand, Lincoln Electric, Parker Hannifin, Renault-Nissan, Tesa SE, Federal Mogul, Fujitec, NTN Corporation, Timken, TVS Group of Companies and Wipro among others.
Highlights
India's First Stage I Gold IGBC certified Green Township | Spread across 1550 acres, on the Golden Quadrilateral (NH-45)
35 kms away from Chennai International airport; 55 kms from Chennai Seaport, railway station onsite
3 sector specific SEZs and Domestic Tariff Area (DTA) | Residential/Social zones
Plug and Play infrastructure | On-site 230 KV / 110 KV substations
OFC backbone for data/telecom connectivity | Treated water and modern waste management networks
24 x 7 security for common areas | In-house operations and maintenance
Location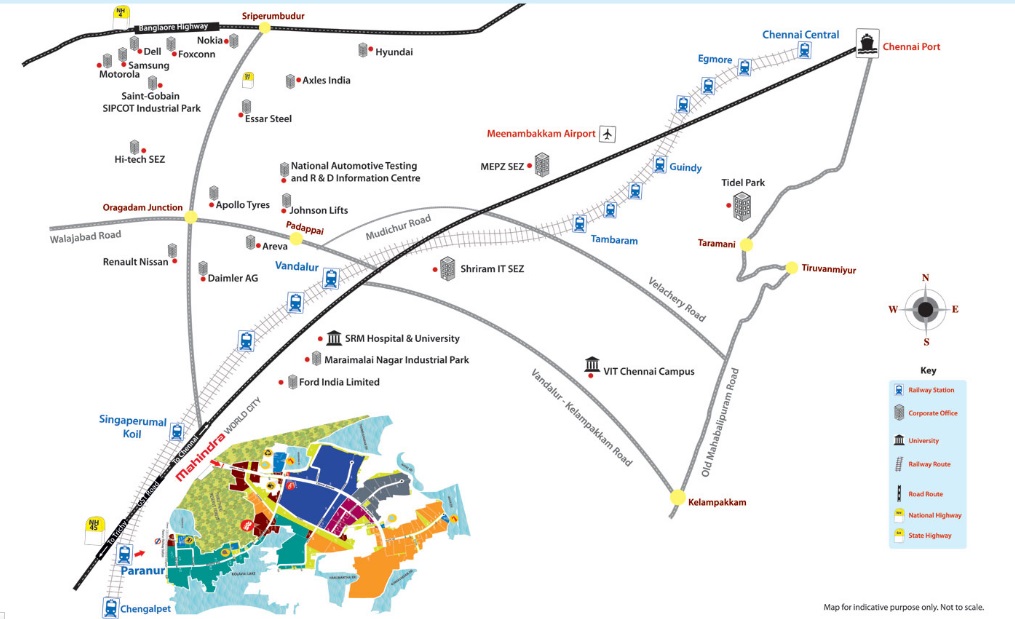 Located strategically on National Highway-45 and spread across 1550 acres, surrounded by rolling hills, a reserve forest and natural lakes, Mahindra World City is planned in complete harmony with nature. Situated in a fast expanding industrial hub, the City is well connected by road and rail. A railway station (Paranur) on–site provides easy access to safe and cost effective rail transport including suburban commuter services. Several engineering colleges, educational and technical institutions located along this corridor provide access to high quality resources.
Sitemap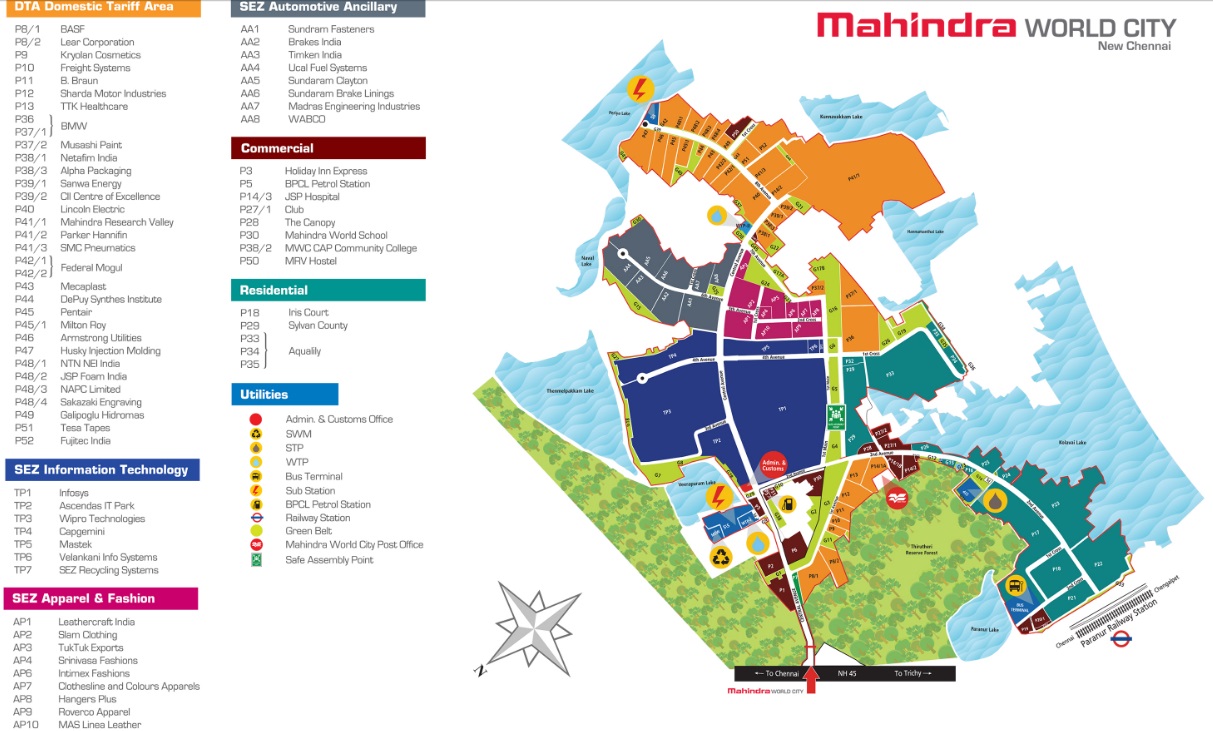 Mahindra World City Chennai – Residential Zone
Aqualily – Overview

Aqualily is an exclusive gated community of elegant well-designed homes that redefine style. Located within Mahindra World City, Chennai overlooking a perennial lake, Aqualily is spread across 55 acres of lush green surroundings. On offer are an exquisite range of apartments providing large living spaces with a choice of 3 bedrooms and duplex with a private balcony and a host of world-class amenities to lead a healthy and fun-filled lifestyle. Aqualily homes are bound to appreciate in value whether you live in them or rent-out, which makes them an ideal investment for your future. Coming from the trusted Mahindra Lifespaces, you can be assured of quality and on-time possession. Prices starting at Rs.61 Lakhs.
Unit Types & Saleable Area
3 BHK + Study – 1947, 1971 sq.ft.
4 BHK (Duplex Apartments) – 2286, 2562 sq.ft.
Classic Villa (Wall Sharing) 3BHK – 2280, 2770 sq.ft
Luxury Villa (Independent) 4 BHK – 3950, 5000 sq.ft.
3 BHK – 1595, 1605 sq.ft.
Iris Court – Overview

When the world is within your reach, you know you are living the perfect life. Welcome to Iris Court, at Mahindra World City, Chennai. Well-designed homes set in a vast natural expanse that provides an ideal setting for a fulfilling life. With all the modern conveniences in close proximity, you are sure to experience a lifestyle of quality and substance. Coming from the trusted Mahindra Lifespaces brand, Iris Court is the best choice you can make for your family. Prices starting at Rs.49 Lakhs.
Unit Types & Saleable Area
3 BHK – 1395, 1401, 1411, 1440, 1454 & 1467
Nova – Overview

Say YOH to life! Your own Home at Nova gives you the freedom to live a stress-free life. No more hassles of constant shifting, high rentals and long tiring commute to work. Nova homes are thoughtfully designed to help you lead a comfortable life. Located at Mahindra World City, Chennai and close to all desirable amenities, its time you lead life of freedom. Prices starting at Rs.18.1 Lakhs.
Unit Types & Saleable Area
1.5 BHK – 605, 612 sq.ft.
2.5 BHK – 836 sq.ft.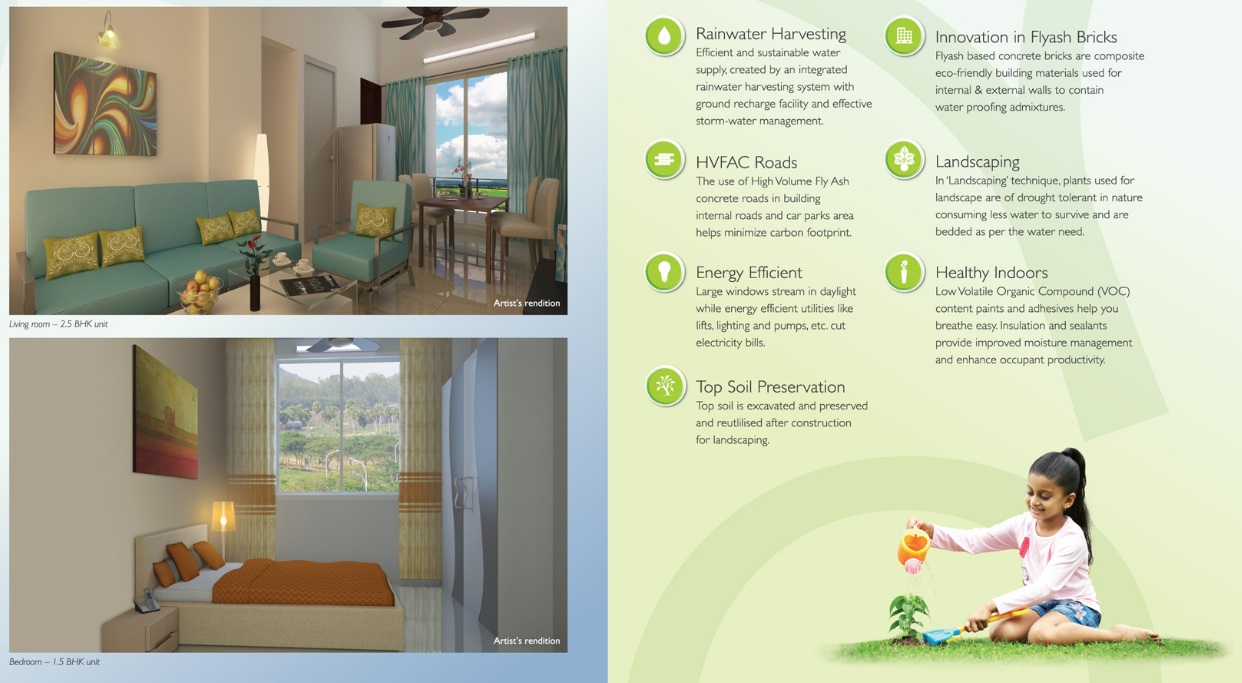 Payment Plan
| | |
| --- | --- |
| Stages of Construction | % of Payment |
| Booking Advance | 12% |
| At the time of execution of Agreement to Lease 45 days | 8% |
| Commencement of Foundation | 10% |
| On Casting of Stilt/Ground Roof Slab | 10% |
| On Casting of Third Floor Roof Slab | 10% |
| On Casting of Fifth Floor Roof Slab | 10% |
| On Casting of Seventh Floor Roof Slab | 10% |
| On Commencement of Internal Plastering | 10% |
| On Commencement of External Plastering | 10% |
| On Commencement of Flooring Stage | 5% |
| During Handing Over | 5% |
| Total (All Inclusive Value) | 100% |
Sustainable Initiatives
Mahindra World City has been conceptualized and set up on the basis of three core pillars, Social, Economic and Environmental, thereby enabling the flexibility to accommodate changing dynamics of future market trends.
Social and Economic
Intelligently planned and crafted with precision, Mahindra World City, Chennai, gives you a holistic experience while providing an amicable balance between various social and economic offerings. At Mahindra World City, community development is always given utmost priority. All basic amenities are planned and located within a 1 kilometre radius from the centre of the city and the residential facilities.
Residents have easy access to food courts, banks, schools, the shopping complex, medical clinic, hospitals, pharmacy, restaurants, ATMs, foreign exchange counters and post offices. Moreover, people from the neighbouring communities have also benefitted from the developments at Mahindra World City. In association with NGOs, Mahindra World City provides educational programs for the youth from the neighbouring communities, enabling them to join mainstream industries and earn their livelihood.
Mahindra World City along with leading NGO – CAP Foundation has been working together to develop a program for the 'inclusive development' of the local community. The CAP Foundation instituted two programs, 'Employability Training Centre' and 'Teen Channel'. Together, Mahindra World City and CAP Foundation are also setting up a community college that will offer specialized vocational training programs. Some of them have turned entrepreneurs and cater to the population in various ways, such as infrastructural development, retail, food outlets and more.
Environmental
Mahindra World City, Chennai, is truly in unison with nature! Almost 90% of the streets, parking and pavements have been provided natural green cover to reduce the heat island effect. Rain water harvesting and storm water drainage are used to improve the groundwater table and water availability across the City. The water collected from rain water harvesting pits and storm water drainage are drained into the Kolavai Lake adjoining Mahindra World City.
The City has also established an on-site common sewage treatment plant (STP) to avoid the waste water stream running into nearby water bodies. The treated water from the STP is used for landscaping and for toilet-flushing in commercial and residential establishments. Mahindra World City has pioneered usage of renewable energy by commissioning Tamil Nadu's first off-grid Roof Top Solar Photo-Voltaic power plant at the commercial centre. The power plant has a capacity of 75kW and generates around 1,18,000 KW of clean power annually. Also, majority of the public and street lighting is LED and induction light fittings. All the street lighting fixtures have been fitted with timer based automatic control systems. These measures have resulted in significant energy savings.
Contact us for Exclusive Offers and Confirmed Bookings