Vista Lux Akoya Oxygen by DAMAC – Introducing Vista Lux, the jewel in the crown of AKOYA Oxygen. This unparalleled development provides luxury living on a grand scale, with over 2,000 hotel apartments of varying size, all offering exceptional VISTA LUX at AKOYA Oxygen views of the development, the lake and the Championship Trump World Golf Club Dubai. The properties are fully furnished and our staff is available to you 24 hours a day, to ensure that you enjoy premium service on a par with the world's finest hotels.

SHOP – Take a stroll down the promenade of high-end fashion and luxury lifestyle boutiques, in a relaxed environment that's miles away from the bustle of a typical shopping mall. SHOP Whether you're searching for the latest must-have item or an extra special gift, our range of specialist shops will cater to your every need.
EAT – Enjoy breakfast with friends, a leisurely lunch watching the world go by, or just a quick coffee – all accompanied by breathtaking views of nature. Or for something more formal, try one of the EAT many restaurants. Located in a variety of stunning settings overlooking the water or vibrant green fairways of the golf course, they will satisfy every mood and taste.
GROW – Hydroponic cultivation is a beautifully efficient and eco-friendly way of growing plants in water, without using soil. Amble through the plant-growing area and see GROW how this groundbreaking process works. Then dine on the healthiest dishes, made from the freshest ingredients, in our stunningly designed hydroponic café.
PLAY – The Trump World Golf Club Dubai is a premium 18-hole Championship golf course, complete with everything the modern golfer requires. Expertly arranged by Tiger Woods Design, PLAY to challenge players of all handicaps, the lush fairways are complemented by an expansive pro shop, world-class restaurant and luxury clubhouse facilities.
GREEN – Our indoor rainforest, housed beneath a spectacular sky dome, is another 'first' for Dubai; a living, breathing ecosystem, dense with lush green vegetation and exotic flowers, all nourished with fresh GREEN rainfall daily. Take a wander through the jungle foliage, among the streams
and waterfalls, in a magical experience accompanied by the enchanting sound of exotic birdsong.
LOCATION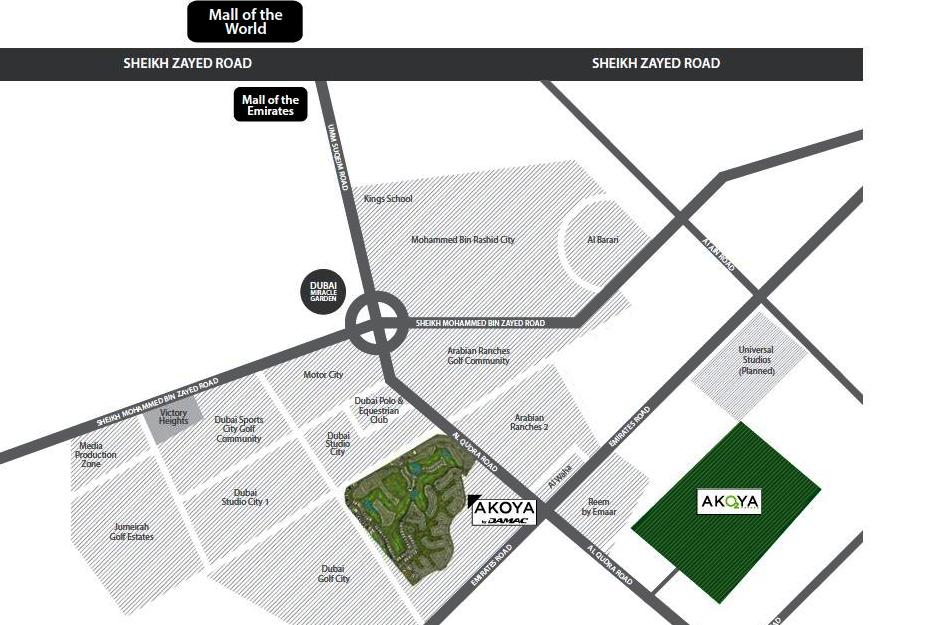 AMENITIES & FACILITIES
HOTEL APARTMENT FACILITIES:

FACILITIES AT AKOYA OXYGEN:

Each hotel apartment is completely furnished and equipped.
 Home to Dubai's first rainforest.
Hydroponic café.
Round-the-clock hotel services.
High-end boutiques and world-class promenade.
Infinity pool.
Luxury spa.
Steam rooms and sauna.
State-of-the-art gymnasium.
Part of a unique rental pool.

 Trump World Golf Club Dubai by Tiger Woods Design.
Five-star hotel and hotel apartments.
Desert-inspired luxury spa.
Unique yoga enclave inspired by the natural elements.
Water play fountains across the community.
Organic fresh market.
Healthy dining.
Schools and nurseries.
Launching 2 Towers (One Residential & One Hotel Apartments)
Prices range starts from AED 950/- to 1000/- Per Sq.Ft. (approx.) Price range starts from AED 450,000
Typology: Studio, 1BR, 2 BR
Anticipated completion 2019-2020
SEND YOUR EXPRESSION OF INTEREST:
Clear passport copy(front and signature page) | Complete postal address with P.O. box number
Email address | Contact Phone numbers | Signed EOI form attached.
Mode of payment credit card/ bank transfer clear copy.
About AKOYA Oxygen: It is dubbed 'Dubai's first green residential address'. The sprawling community offers a range of villas nestled in the heart of nature, with lush greenery and cascading water features all around. A huge variety of trees and plants melt away the bustle of urban life, yet the stunning green development is ideally located so the city centre is far enough away to offer the peace and tranquility of wide open space, but easily accessible when required.
Contact us for Exclusive Offers and Confirmed Bookings.