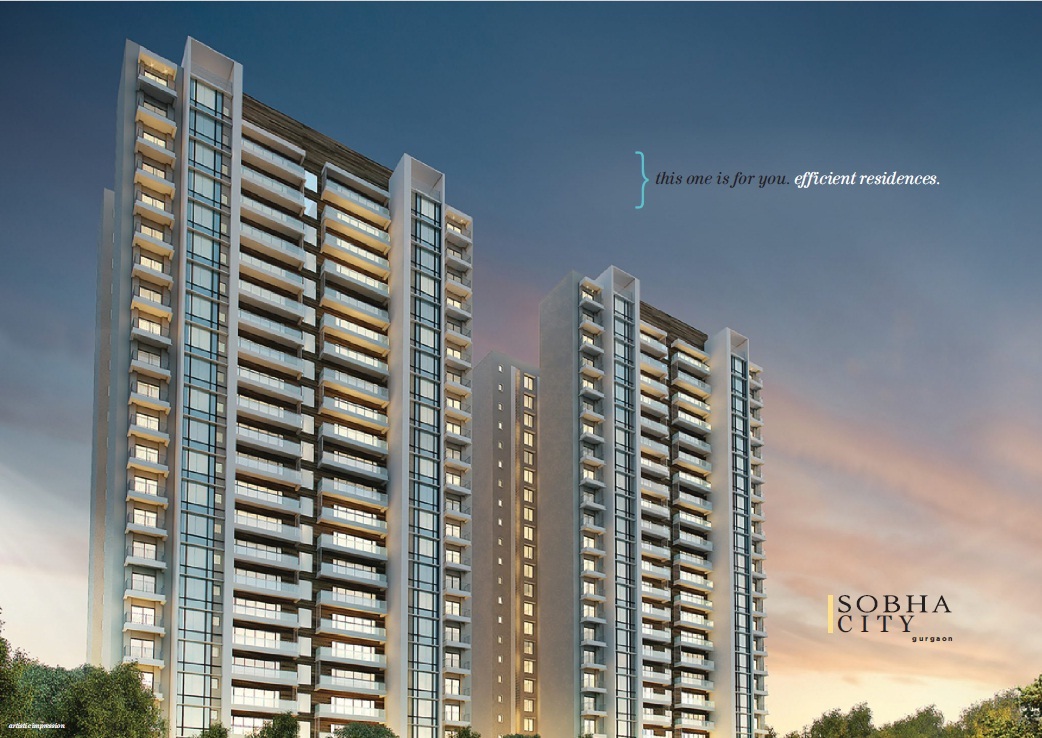 Sobha City is a 39 acre development located in sector 108 on the Dwarka Expressway, a mere 15 – 20 minute drive from Dwarka and subsequently T3 Terminal in New Delhi. The project has an impressive frontage of over 500m as it is situated right on an existing and operational 75m wide road, opposite to Phase 2 of Sobha's existing Luxury Villa project, International City. The project's rear boundaries overlook the Delhi reserved greens.
Owing to the location, size and shape of the land, the views from these homes are envisaged to be unhindered and spectacular with active sports and lifestyle amenities and 85% open and green spaces. Sobha City is expected to be one of the best developments by Sobha till date.
Location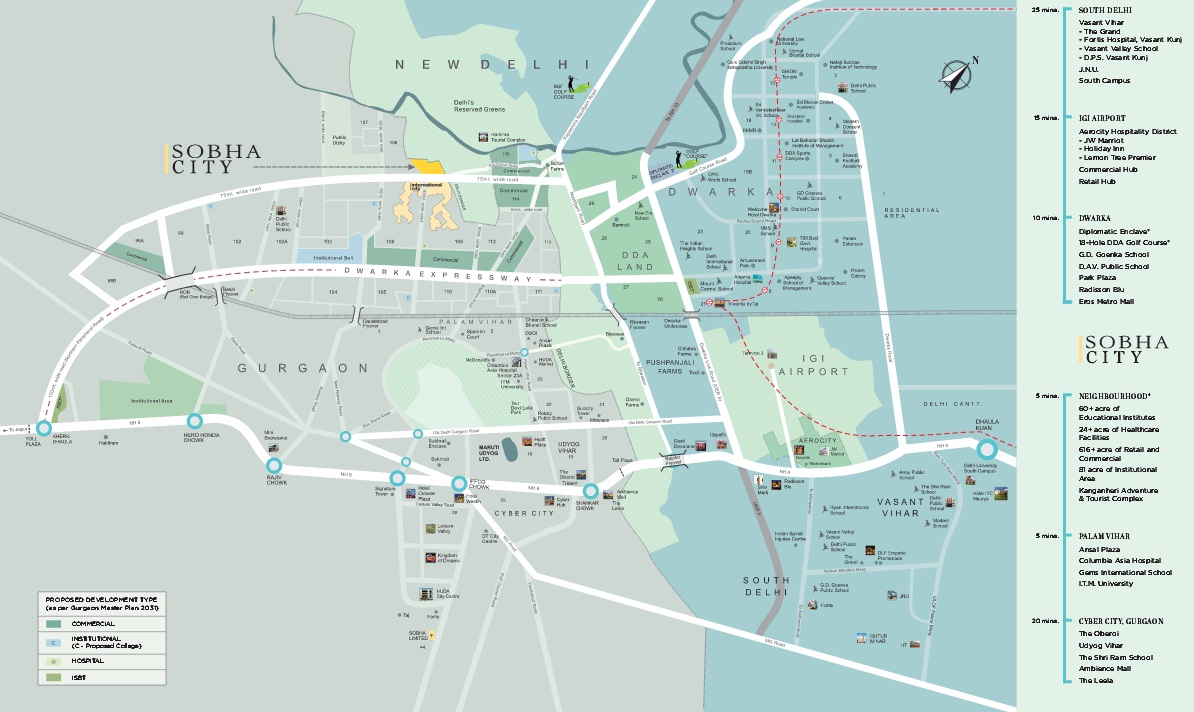 Location Advantages
1. Sobha City is located in sector 108, right on the 75 meter operational road and is only 3 Km from Dwarka, sub – city in Delhi, which is Asia's largest residential suburb with a population of 1.1. Million.
2. The site is connected to Gurgaon through an existing road network via Palam Vihar, Old Gurgaon and it takes ~30 minutes to reach Cyber City.
3. Manesar is accessible through the existing 75m wide road and Dwarka Expressway and is expected to become better once the expressway is fully functional.
4. Sector 108 is adjacent to Sector 109 which is the most developed sector on upper Dwarka expressway with almost 13000 residential units expected to be handed-over in the next 2 years. Hence making it a ready location to move in by the time we start handing over.
5. Sobha City is in close proximity to Sector 114 Gurgaon, which is poised to be the most engaged commercial sector with vibrant retail and office spaces. It is the closest commercial sector to the International Airport as per the Gurgaon Master Plan
6. Sobha's upcomimg commercial project (part of International City township) that would come up with mix of retail and commercial office spaces is right across Sobha City Gurgaon. 7. Proposed Diplomatic Enclave that would house 39 countries is also in close proximity and is already under development in Dwarka, Delhi.
Sitemap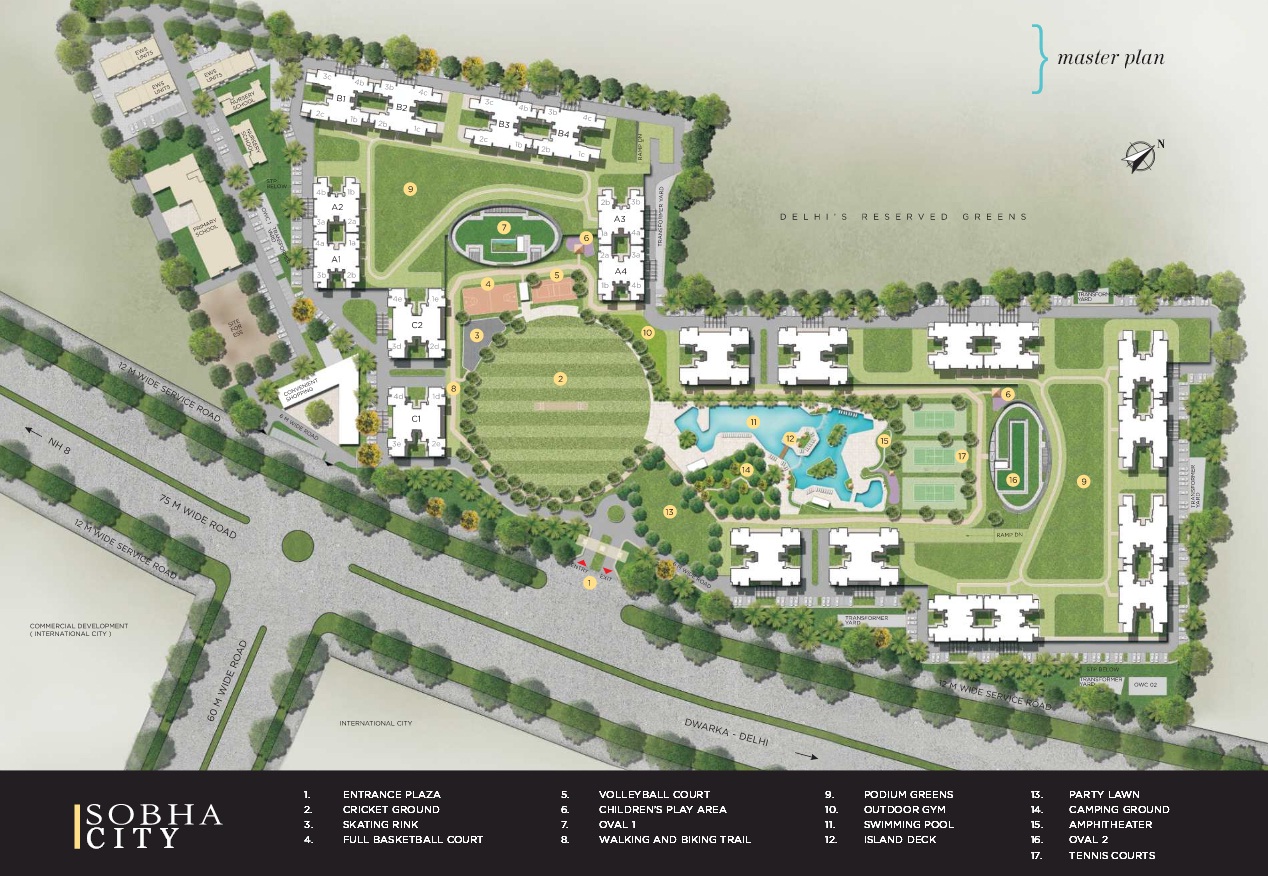 Apartment types and their unique aspects:
1. The project offers 2 & 3 Bedrooms apartments ranging in sizes of 1380 Sq ft to 2342 Sq ft. Laid out 4 to a floor in each tower.
2. The apartments will have well designed functional balconies for better space utilization.
3. The wall thickness will be 160mm vs a standard 230mm that will provide for better carpet area.
4. No common walls between apartments. 5. Entrance doors do not face each other providing excellent privacy.
6. Adequate distance has been maintained between placement of towers.
7. Placement of master bedroom in each unit has been planned to ensure highest privacy.
8. Large windows and sliding doors that will ensure ample natural light and ventilation.
9. Habitable spaces have been placed on external façade to ensure best views.
10. Each area in the apartment has been designed thoughtfully and has the right dimension of space. In addition to great amenities and lifestyle enhancing opportunities, the project promises Sobha's signature quality standards. With our superior quality benchmarks that we have maintained in all our real estate projects across the country, the project is sure to be a landmark which will change the way people perceive condominium living in Delhi NCR.
Floor Plans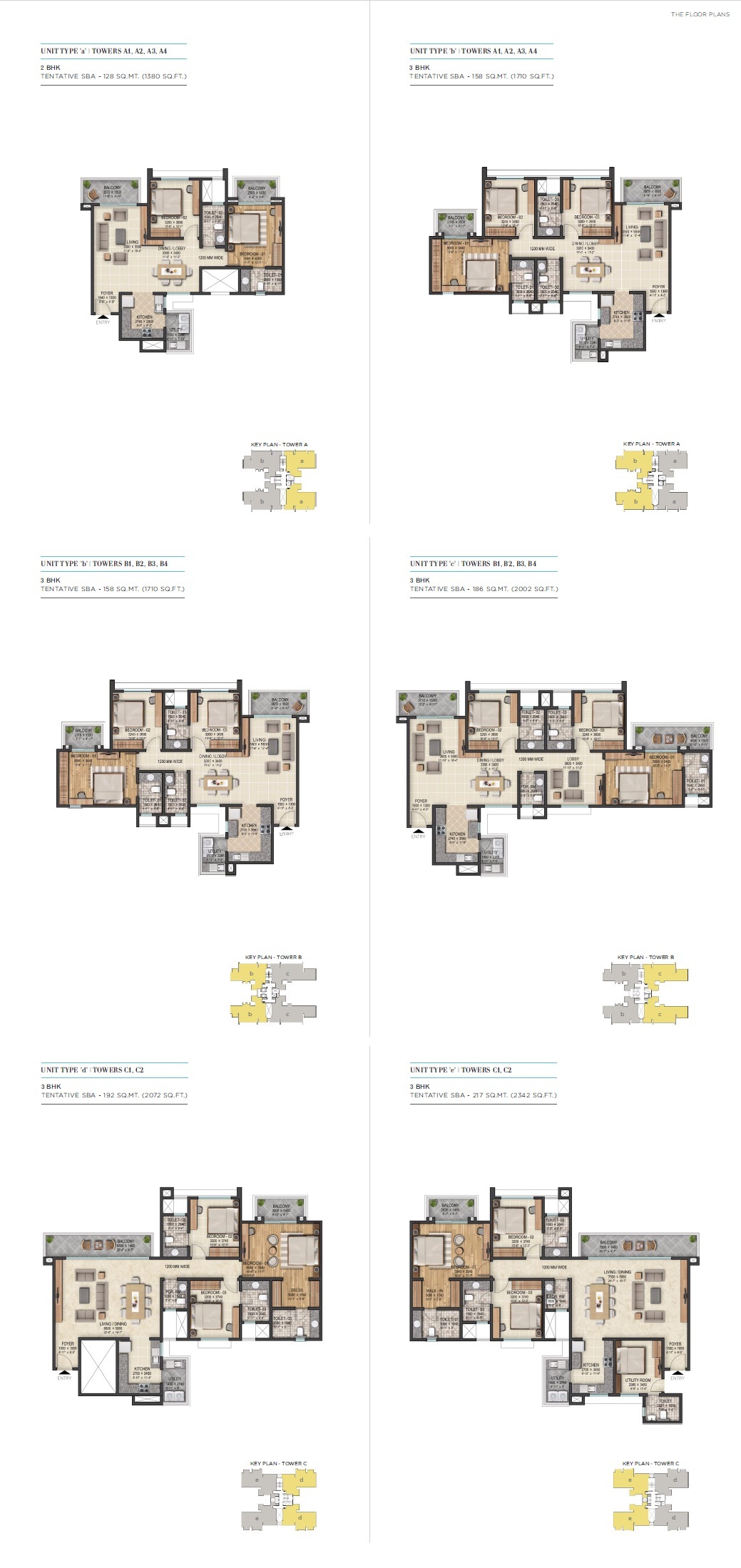 Sobha City's unique aspects
1. The project is being developed on a 39 acre land parcel which is a large integrated piece of land.In fact, the largest single group housing project in Gurgaon in the recent times.
2. Surrounded by Delhi reserve greens on 2 sides with only farmhouses or low-rise future developments, Sobha City has an impressive 500 mtr frontage on the 75 meter road with uniform depth within the plot enabling excellent access for all residents
3. Sobha City will have a grand arrival experience with 32m wide magnificent entry plaza.
4. The large size of this project has helped us plan a number of amenities and approx 85% open and green spaces.
5. In fact, the USP of the project is, its meticulously planned amenities around active sports and social lifestyle. There is a significant amount of thrust on active living hence, Sobha City boasts of 16+ planned indoor and outdoor sports facilities.
6. The project has been designed for the residents to have the best of active life and social lifestyle.
The Amenities
1. 8.5+ Acres Central Greens.
2. Resort style organic shaped 60m+ long swimming pool, kids pool and a large water body with an island deck for relaxation, spread over 27,000+ sq.ft as well as an indoor swimming pool.
3. 90 Meter Dia Cricket Ground with professionally prepared pitch and landscaped outfield.
4. Full Size Basket Ball & Volley Ball Courts, 3 Tennis Courts.
5. A 1 km walking and bike trail of 4m width around the active zones with no interference from any kind of vehicular traffic.
6. Skating rink.
7. State of the art 2 gymnasiums.
8. Party Lawns of approx 10,000 sqft.
9. 2 Oval Club Houses measuring ~40,000 sq.ft with multipurpose halls, cafe, entertainment room, Squash and badminton courts, library and cards room, children's play area etc.
10. An in house convenient shopping and retail zone.
Specifications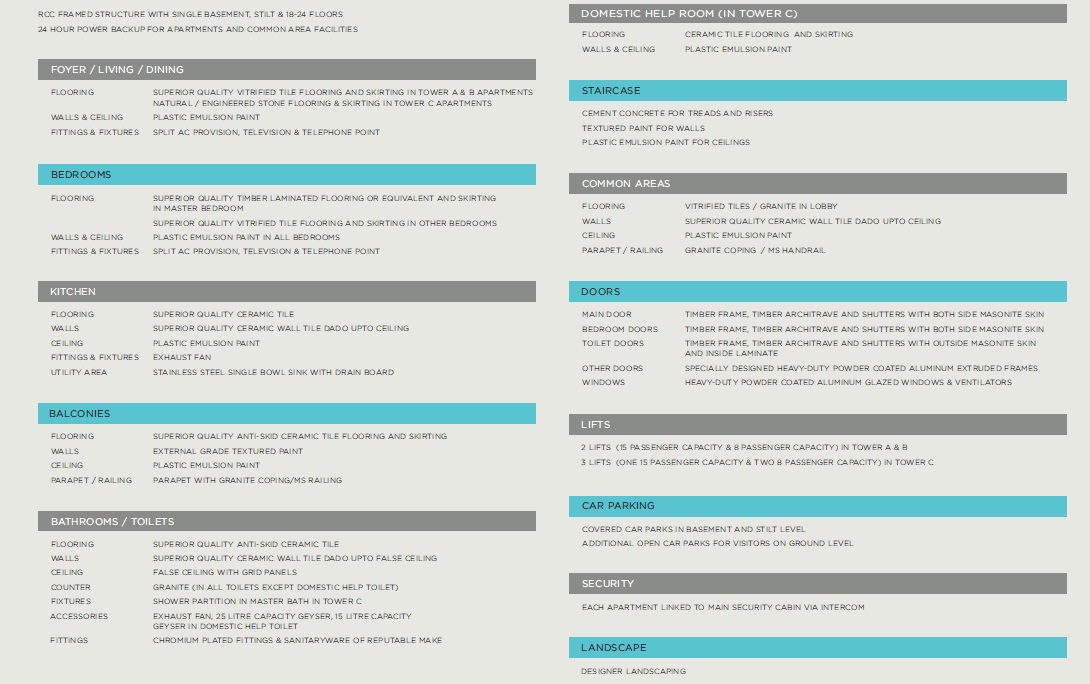 Prices and Payment Plans
Sobha City Type a Premium Pricing
Sobha City Type b Premium + Pricing
Sobha City Type b Premium Pricing
Sobha City Type b Standard Pricing
Sobha City Type c Premium Pricing
Sobha City Type d Premium ++ Pricing
Sobha City Type d Premium Pricing
Sobha City Type e Premium ++ Pricing
Sobha City Type e Premium Pricing
About Sobha 
1. Sobha City is being developed by Sobha Ltd, which is the only backward integrated real estate company in the country. Our in-house manufacturing units of concrete blocks, woodwork and metal & glazing work help us in delivering world-class quality within promised timelines.
2. Sobha is a delivery focused organization with more than 6 million sq mt delivered in more than 24 Indian cities.
3. Sobha has been honored with numerous prestigious awards by various institutions of repute. We recently won 'Builder of the Year' 2013 by CNBC Awaaz and 'Most Reliable Builder' – Consumer's Choice Award 2012 by CNBC in 2 successive years.
Contact us for Project Details and Exclusive Offers