Prestige Song Of The South, is a upcoming giant luxurious residential project by the top real estate builder Prestige Group located in the prime location of Begur Road, Bangalore and enjoys good connectivity to all points of interest located in and around Bangalore. Begur Road is quite a holy village located only 9 kilometers at the outskirts of Bangalore. With Bangalore-Hosur highway merely a minute faraway from here, Begur road is called a best possible located area for new constructions.
Sprawling over 40 acres of land with 50% open space and the project offers 2 and 3 BHK Luxury apartments. This project has been cardinal organized and conscientiously constructed with all the accelerate features of ultra-modern era, which enables you to feel the uniqueness and charm at every corner of the property.

Location Map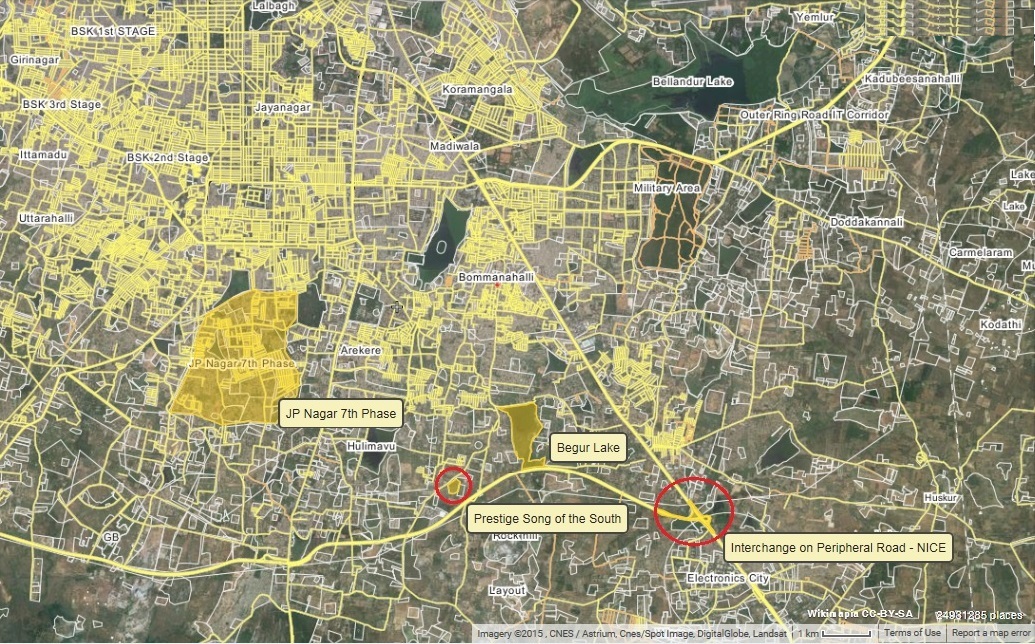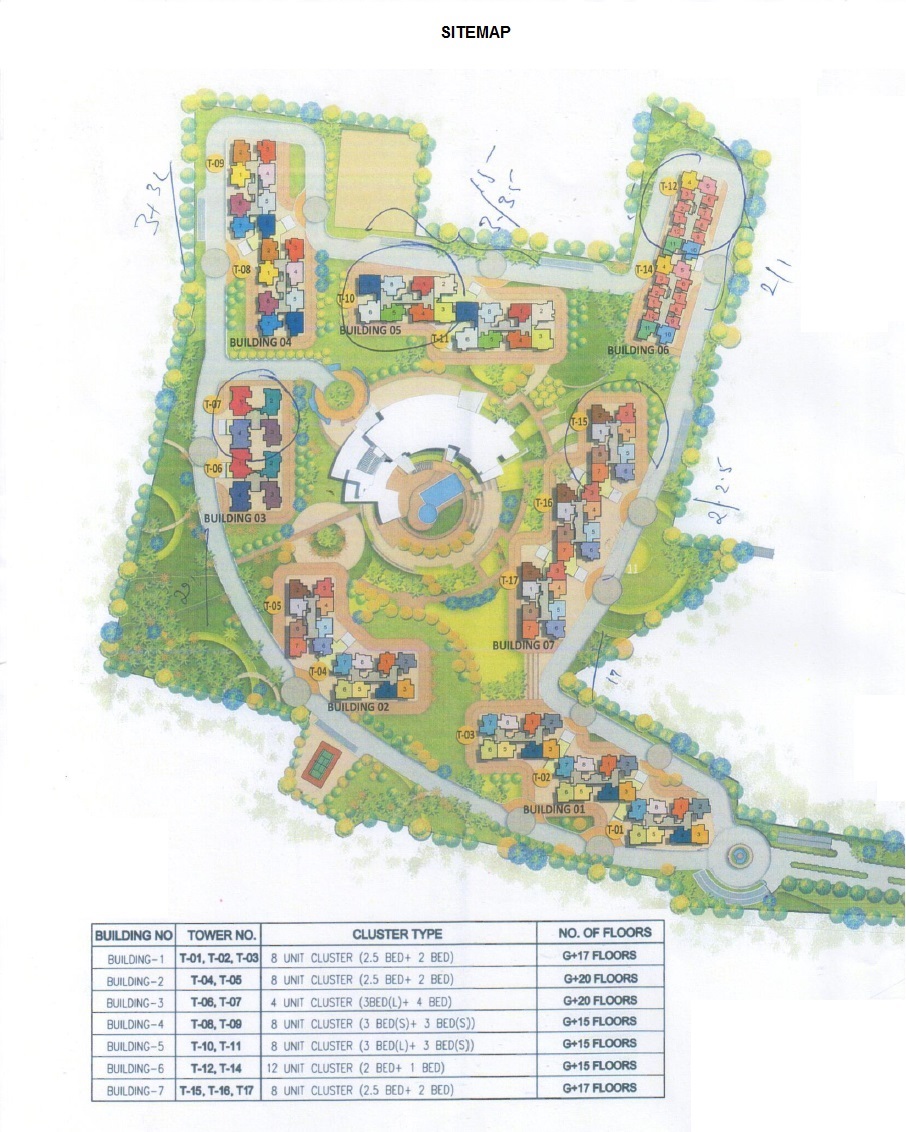 Floor Plans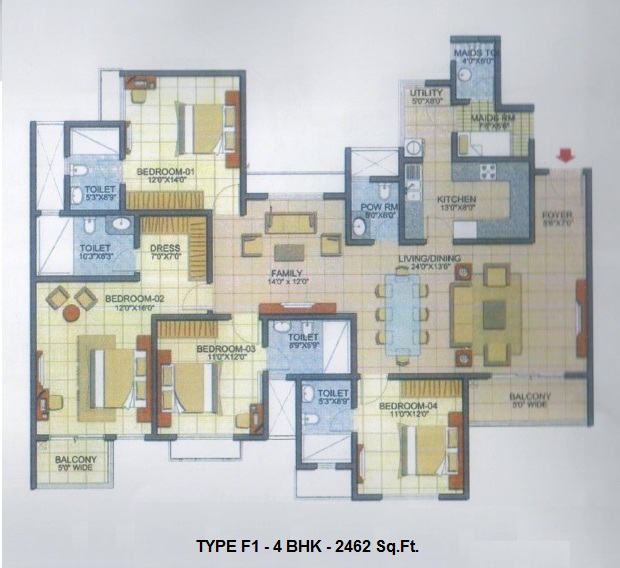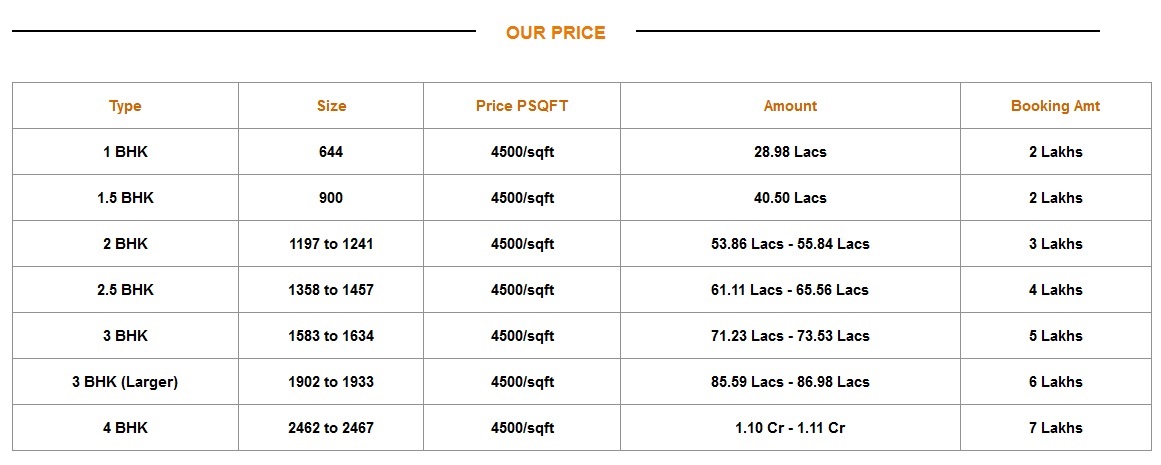 FAQ's – Prestige Song of The South
1. Where and what is Prestige Song of The South?
Prestige Song of The South is located in Begur off Bannerghatta Road, Bangalore. This is a premium residential development set in about 33 acres of land. The project consists of 2234 Apartments spread across 7 Blocks consisting of 16 Towers.
2. How far is the location from M.G Road?
It is about 16.3 kms from MG Road and 3.3 kms from Meenakshi Mall, Bannerghatta Road.
3. Who are the Architects/Master Planners of Prestige Song of The South?
The International Architecture firm, R.S.P Architects are the key designers for Prestige Song of The South.
4. What are the different types and sizes of apartments?

5. Is there a club house and what are the facilities provided?
The project will have an elaborate Club house with spaces for Library, Crèche, Mini Theatre, Health club, Tennis court, Swimming pool, Kids Pool, Outdoor Party Area, Banquet Hall, Gym, 2 Badminton courts, 2 Squash Courts, Snooker, Table tennis, other indoor games, Kids play area, provision for Convenience Store, etc.,
6. Is this a phased development and what are the time lines for completion?
The entire project will be taken up in two phases and is expected to be ready for possession from Mid-2019 onwards.
7. Is there any differential price based on the floor and orientation of the apartments?
Yes, there is a differential pricing for apartments. For every level/floor rise there is an increase of Rs.15/- per sft. In addition to the floor rise, select apartments will also attract a preferential location charge (PLC) of Rs.75/- and Rs.100/- as applicable.
8. How do I book my home at Prestige Song of The South?
 Please identify your Apartment from available options.
 Fill in the booking application form
 Pay the initial booking amount by way of cheque/DD favouring '' Prestige Estates Projects Limited'' together with required supporting documents.
 Balance of 20% of the sale value to be paid by way of PDC dated 30 days from the date of booking.
9. What happens thereafter?
On realization of the initial payment of 20% you will be required to issue post-dated cheques (PDCs) for the instalments within 15days against which a formal letter of allotment will be issued. Agreements will follow after completion of allotment process.
10. When do I get a confirmed allotment?
On payment of 20% of the sale value and submission of post-dated cheques for the remaining amount, the allotment will be confirmed.
11. Can I make 100% down payment?
Yes. This offer is applicable for a limited period only. Please check with the Sales Team for more details.
12. How are instalments to be paid and is it time bound?
Instalments are to be paid by way of post-dated cheques which is a pre-condition of the allotment. This schedule of payment is on a time bound basis as mentioned in the payment schedule.
13. What happens if I cancel my booking?
Why would you want to miss out on such a strategically located and meticulously designed project? However, if you do wish to cancel after booking, 1% of the sale value will be forfeited before Agreements and 15% of the sale value will be forfeited after agreements are executed as cancellation fee and the balance will be returned (subject to statutory deductions if any) without interest.
14. When does the development start and when can I expect to move into my new home?
Construction will commence by Jan 2016 tentatively and your new home will welcome you by Mid-2019 onwards.
15. Are modifications permitted in the apartment?
The specifications and designs have been carefully worked out. Considering the number of apartments and the delivery date, customization will not be possible in the collective interest of the purchasers.
16. What about car parking spaces?
We can provide one car parking space for every apartment. Additional car parking request will be taken up towards project completion subject to availability.
17. Is the title of the property clear?
Of course! Legal due diligence has been done by M/S. Kusuma Advocates. The land is freehold, marketable and free from all encumbrances.
18. Has BDA/BBMP sanctioned the plans?
Yes, the development plans have been sanctioned by BDA. Environmental Clearance obtained, BBMP approval applied for.
19. What are the Agreements that need to be signed?
The Agreements that need to be signed are Agreement to Sell & Agreement to Construct, followed by a Sale Deed upon completion of the development.
20. What is the process of registration and when does registration take place?
Registration will be done only on completion of the development and on payment of the entire sale consideration including the additional charges. Registration will be facilitated by us through an advocate appointed by Prestige.
21. What is the process of Assignment?
Assignment can be done only after the Agreements have been signed, PDCs given, 3 instalments paid and the new party complying with the terms and conditions of the principal agreement. Transfer fee as applicable will be required to be paid. If you have availed a loan then you will be required to retrieve and hand over all letters and documents issued by Prestige to the bank / housing finance institution along with their NOC.
22. What if Prestige delays the construction and possession?
Our endeavour is to complete & hand over the project as per committed time lines. However, for reasons beyond our control if the project is delayed, Prestige will pay 8%* per annum on the amount collected which will be clearly brought out in the agreements (* Conditions apply).
23. What are the additional amounts to be paid?
BESCOM & BWSSB charges, VAT, Service tax, Sinking fund, Advance maintenance charges, Generator charges, Khata assessment charges, Registration charges and any other statutory charges and duties as applicable.
VAT & Service Tax will be collected periodically for the amounts paid.
25. Has Prestige Song of The South been approved by banks/Housing finance institutions (HFIs) for loans?
Yes. We will be seeking approvals from all the Leading Banks/HFIs who will extend loans to customers based on their eligibility criteria.
26. What is my responsibility for disbursement of instalments through HFIs?
It is the purchaser's responsibility to ensure timely disbursement of instalments from HFIs and no demand will be made by us to the HFIs for the same. To facilitate smooth payments, customers are required to issue a consent letter. Post-dated cheques (PDC's) handed over for the instalments will be returned on receipt of the payment from the HFI.
27. Who will take care of the maintenance of Prestige Song of The South?
The maintenance will be taken care of by Prestige Property Management & Services. You can be rest assured Prestige Song of The South will be cared for by professionals.
28. What is the scheme for maintenance?
The scheme for maintenance is as under:
• A sum of Rs. 50 per sft will be charged as the advance maintenance fee for the first year and will be collected at the time of closing of your account. From the second year onwards, maintenance charges will be levied as decided by the Association/Prestige Property Management & Services. All future payments are to be made favouring the property management company.
• An additional sum of Rs. 50 per sft corresponding to the super built area will be collected as sinking fund. This amount will be deposited in an Escrow account and the accruals will be used for major expenditure.
Advantages of investing in Prestige Song of the South:
For IT professionals who are working in and around Electronic City, this is a best suited project.
Builder Brand Value: Prestige Constructions is Category 'A' builder, therefore, investing at this point will have fetch you high returns.
Prestige Constructions, an ISO 9001:2000 certified company is the only Real Estate Developer in Bangalore to have won the reputed FIABCI Award for its software and residential facilities.
Prestige was also recently awarded the Crisil DA1 Developer Rating in recognition of the quality of their projects and the ability to deliver completed projects in a timely manner, making them the ONLY Property Developer across India to have received this distinction.
South Bengaluru is considered to be investor hub. This part of Bengaluru has grown rapidly over past few years.
With a lot of MNCs setting up their offices in South Bengaluru, this property gets its own prominence.
 For availing Pre launch Offer/Bookings, kindly register your interest
NO COMMISSION | TRANSPARENT DEALS | CONFIRMED ALLOTMENT/BOOKINGS